This list of our best Montserrat souvenirs is guaranteed to transport you back to volcano paradise no matter where you call home.
Sure, any stay on the island of Montserrat is bound to be memorable. Thanks to its wonderful people, lush landscape, and, of course, its one-of-a-kind volcano; that's guaranteed. But that doesn't mean taking home a little piece of the island shouldn't be on your must-do list.
Some destinations in the Caribbean have that quintessential item everyone brings back from their stay. Think statia blue beads from Eustatius, Saba Spice, Grenada nutmeg, rhum agricole from Martinique, and the like.
Of course, as we say over and over, Montserrat isn't like most other Caribbean islands. So, here, there isn't any one must-have. Instead, there's a cornucopia of uniquely Montserratian items that await travelers interested in digging deeper into the fabric of the island's daily life.
Repurposed Wine Bottles of Jaize Honey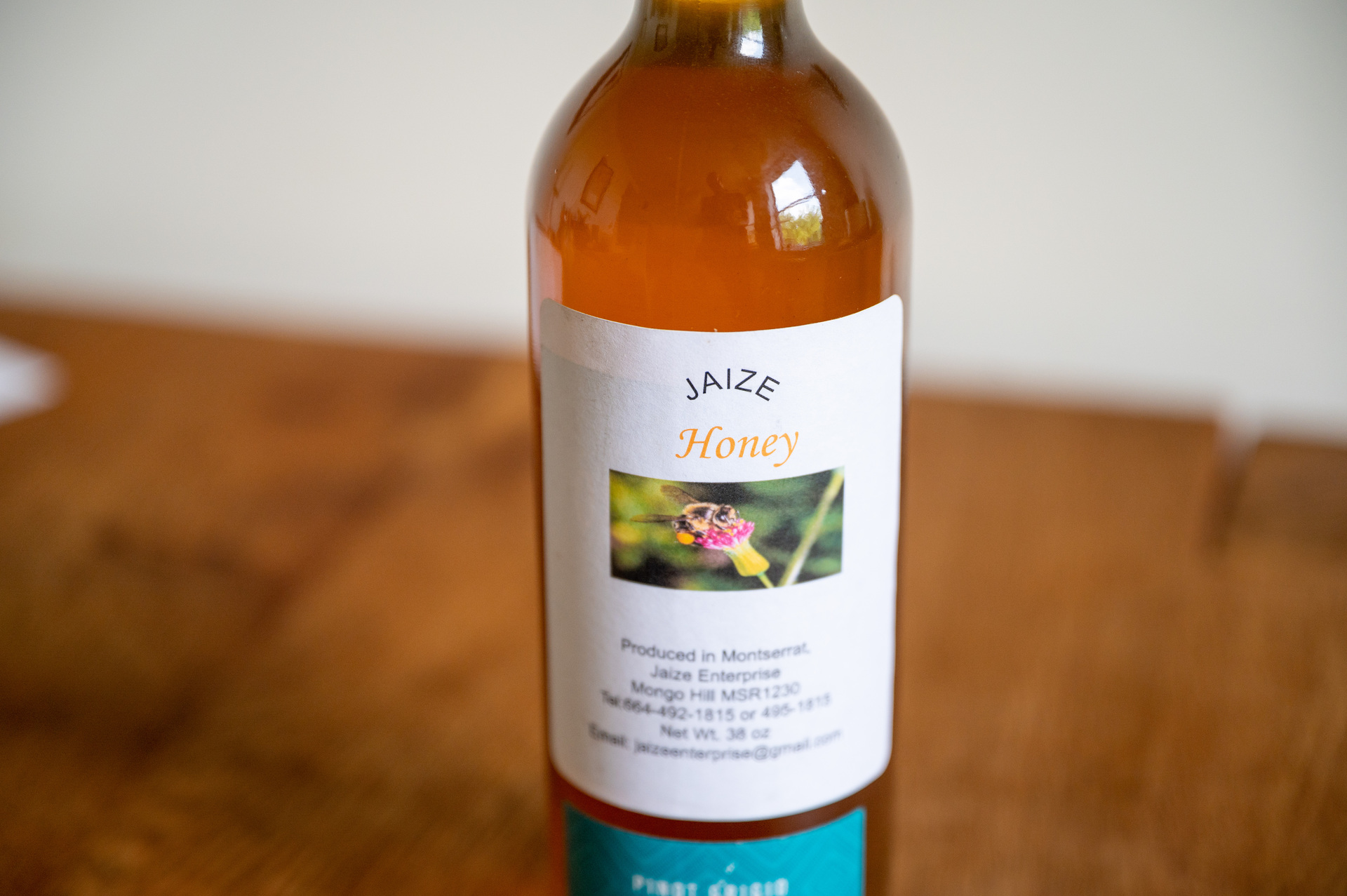 While in Montserrat on the Remote Worker Program, it became clear early on that one of the persistent topics of conversation on-island was food. Who has fresh chicken? When is the next shipment of precious watermelon coming? How can someone make the most of all the mangos dropping in their yard?
There's a pervasive Caribbean culture of sharing food and news about food that's alive and well on Montserrat.
So, it wasn't a surprise after a few weeks on the island that Susan from Tradewinds Real Estate reached out on WhatsApp to let us know about some honey. And not just any honey. Her act words were:
Gorgeous golden honey
What she didn't know is that my wife has a history of picking up honey during our travels. It's been her way of sweetly bottling the terroir of our far-flung travels.
There is some debate about whether the word terroir applies to honey because of the insects' indiscriminate nectar collection and that the bees act as an intermediary between the flowers and the end product. But I think much of that goes out the window when thinking about honey production on small islands. After all, there's only so far the bees can go!
In the end, island honey is "the composite taste generated by all flowers that grow in a certain region."
So, all that said, we were excited to hear of Jovan, the Montserratian beekeeper, and bottler of honey.
At the time, he was keeping his bees near Olveston House. So, naturally, I asked whether I could aid in the harvest. But, unfortunately, he lacked a second bee suite and claimed his bees too "suicidal" to be trusted, so I had to make do with only acquiring the bottles.
And true to Susan's word, they're a rich golden color with a subtle sweetness. Being that I got these bottles in Summer, in my imagination they're the product of mango flower nectar and early season flamboyant trees covering the hillsides in blazing blooms. Delectable.
Each 750 ml repurposed wine bottle was $75 EC or around $25 USD.
A Shan Murrell Original Collage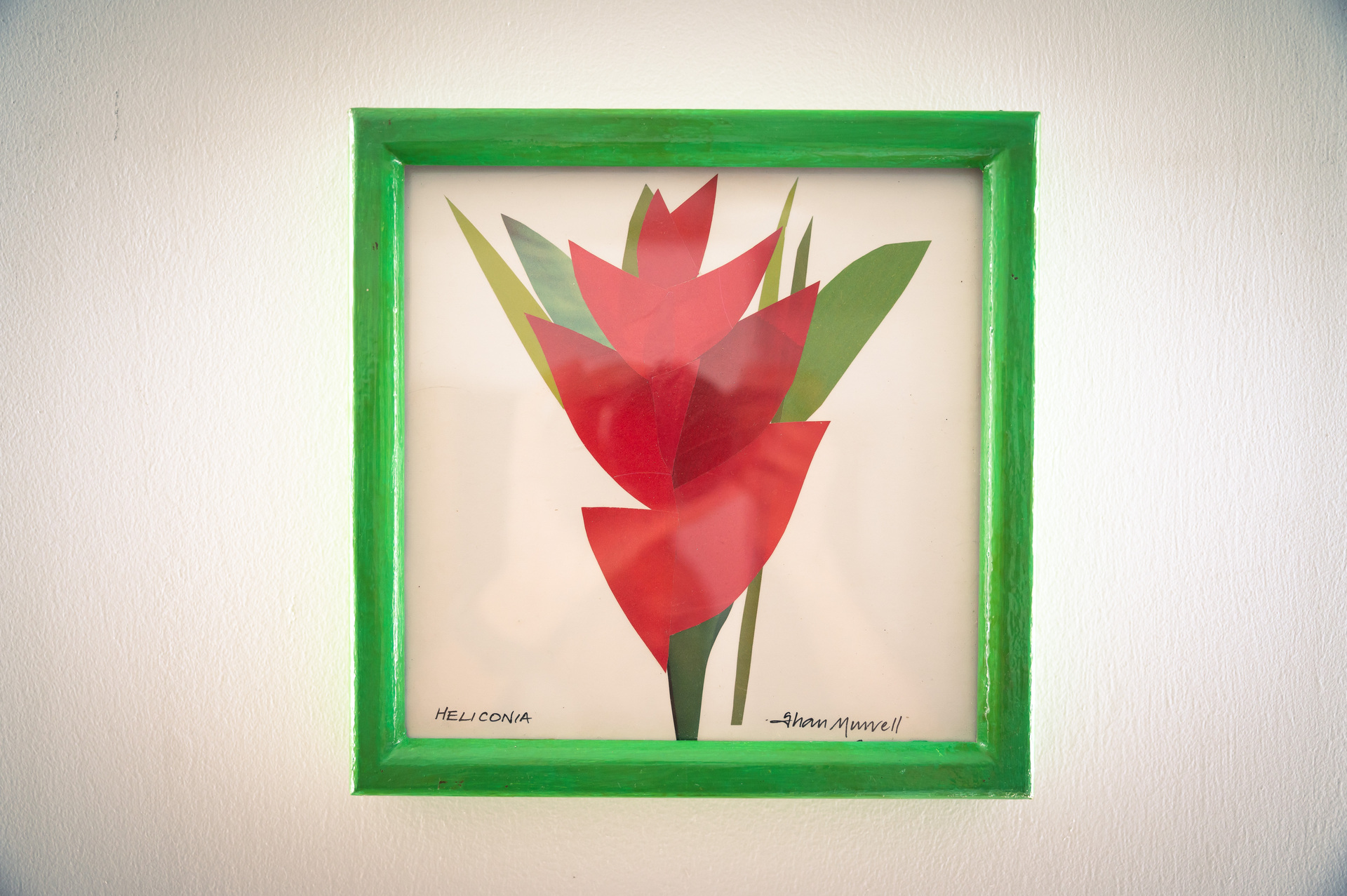 While I don't believe I ever met Shan Murrell before her untimely passing in 2016, her art can be seen all over the island. From The Hilltop Coffee House to restaurants in Brades to pillows in rental homes, Shan's work is everywhere.
And while she had a range of styles, you're most likely to come across her collages. They're brightly colored geometric distillations of island life that speak to the designer in me.
Sugar birds are rendered in unmistakable sweeping flashes of black and yellow. Egrets are flat white against turquoise blues. The volcano is a collection of alternating grey rhomboids intersected by clouds. I love the clarity of communication. So, naturally, I had to pick one up!
Unfortunately, with her passing, her art gallery and studio space just outside Salem no longer have regular hours. Instead, a small committed group of volunteers maintains the collection. So, again, you need to ask around. Try Facebook.
Once inside, you'll have access to a collection of signed and numbered prints and a dwindling supply of original pieces. But, as I was drawn to Shan's economy of presentation, the moment I laid eyes on a small original depicting a red heliconia, I was hooked.
Prices vary depending on size, original print count, original piece, and style. But there's sure to be something for every budget.
Rooster's Hot Sauce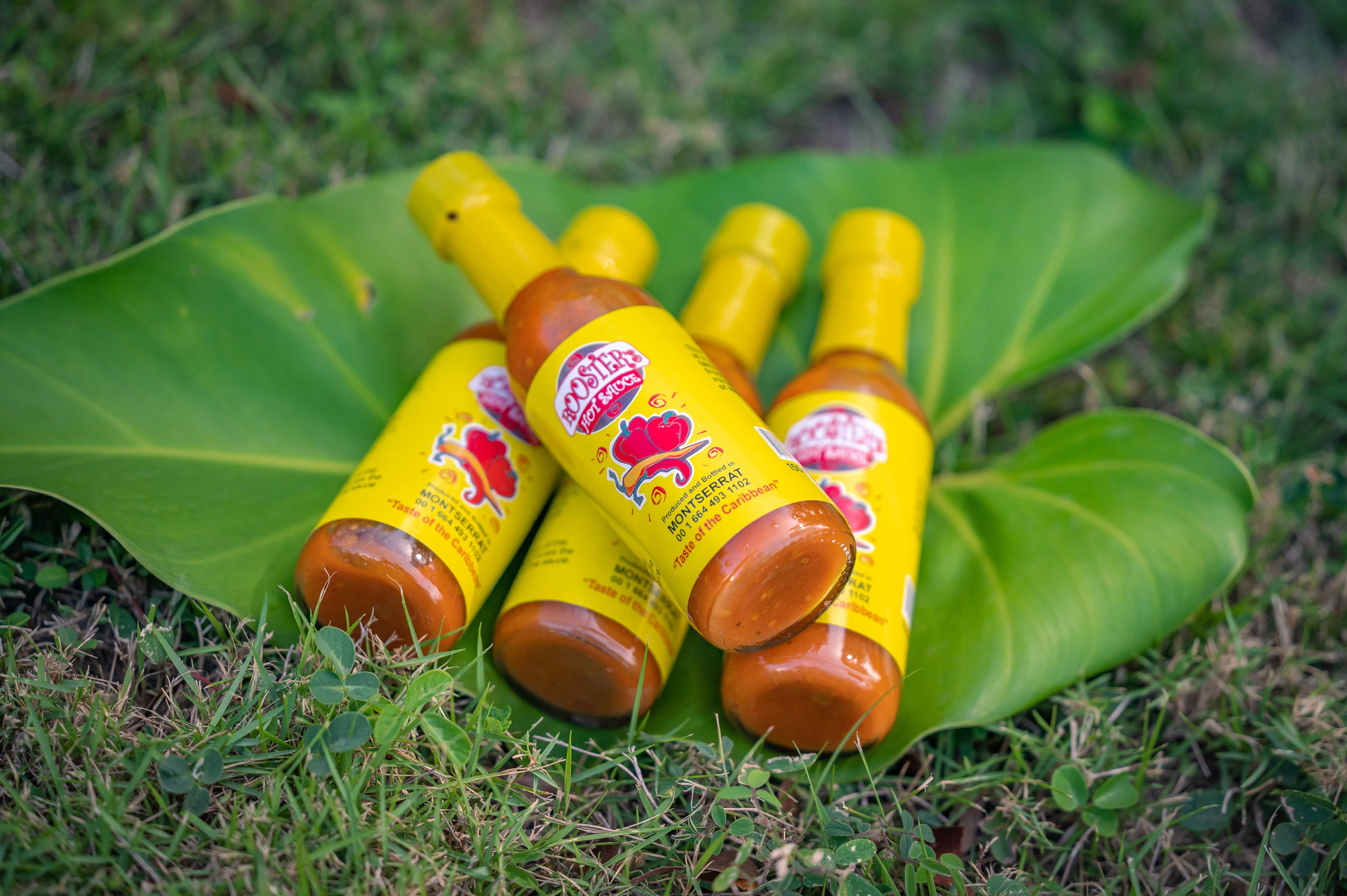 Getting back to food for a moment, another item I often pick up on my travels is hot sauce.
Throughout the Caribbean, these pepper-powered picks represent a real taste of each destination's unique flavor. For example, Barbadian pepper sauce is just plain different from Trinidadian pepper sauce, which itself is different from Belizean heat.
And it's those differences combined with regional cuisine that can transport a person, body and soul, back to the warm West Indian shores from which they came.
So, naturally, I had to have some Montserratian pepper sauce.
After hitting a few restaurants and seeing what was on offer, I fell in love with Rooster's Hot Sauce. No, it's not the only hot sauce made on island, but it was my clear favorite.
Rooster's is hot. But not too hot. It accentuates food without overpowering the dish's flavor. And it's that delicate balance that makes Rooster's so good on everything. I used it on my grilled lionfish at Isles Bay Beach Bar. I used it on the elegant creations from Olveston House. I used it on my Guyanese fare from Summer Breeze Restaurant in Little Bay. And I put it on practically everything we made in our home while on-island.
Like practically everything worth having on Montserrat, it's not always easy to pick up a bottle of Rooster's. Sometimes it's in the stores, but more often than not, it's not.
Your best bet is to reach out to Mr. Rooster himself. Typically, he can be found around the island with a few bottles in his car. Or he's happy to let you know when he's whipping up another fresh batch. Try Facebook again!
Regardless of whether you run into him by chance at a party on the beach or schedule a house call, expect a bottle to run you around $7 EC. (That's just $2 USD!)
I highly recommend you stock up!
Soufrière Hills Volcano Pumice Stones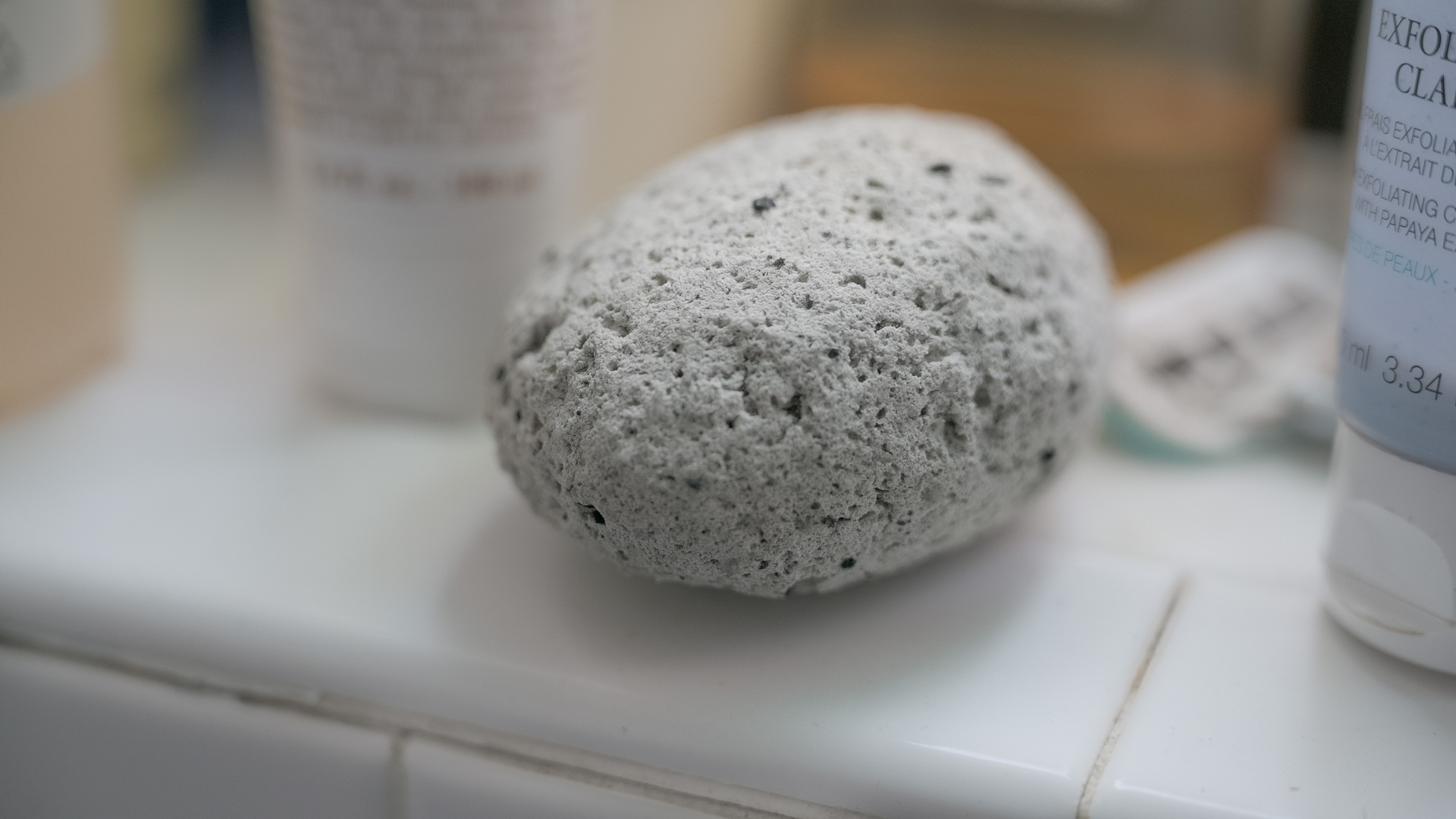 For those who have only used artificial "pumice stones" in neon blue colors their whole lives, real pumice is a surprisingly light rock with a foamy appearance that's had various uses for thousands of years.
Medicinally, it's been ground up and added to tea to treat nausea, ulcers, urinary difficulties and more. More recently, it was the stone in stone-washed jeans. Pumice has also been used for water filtration and polishes.
And it's that last item, polishing, that is how most regular humans use pumice. Polishing our parts, that is. Feet, elbows, knees, really anywhere that tough, dry skin accumulates.
Pumice is created when ultra-hot magma, full of pressurized gas, is squeezed out of a volcano like toothpaste from a tube. Then, as it rapidly cools, the gases form bubbles making the material close to 80% porous. It basically forms a stone sponge that mostly air.
The prolific Soufrière Hills Volcano in the south of the island has produced a nearly invaluable amount of pumice since it began erupting in 1995.
So, your best bet to get some authentic Montserratian pumice stones is to go on a tour of the Exclusion Zone; Zone V. A few calls are all it would take to arrange this. I'd recommend going with either Sunny Lea of Montserrat Island Tours or Norman Cassell (NamCas Tours) . They know all the protocols and make all the arrangements you need to get into the area.
Once there, sure, you can check out the buried former capital of Plymouth. But the real prize is collecting a few perfectly shaped pumice stones to bring back.
They're free, and luckily these lightweight rocks won't weigh down your carry-on!
Memorable Montserrat Souvenirs
Of course, the best things you'll bring back from Montserrat will be the many memories you make while there. Liming on Lime Kiln Beach, kayaking to Rendezvous Beach, knocking back bush rum at The People's Place, hiking through the lush Centre Hills—these are the real souvenirs that will last a lifetime.
But it doesn't hurt to have a few material reminders to help bring those memories flooding back.